Research Questions

1. Do young people aware of famous horror films from America?

2. What is the scariest film they ever watched?

3. How Can old horror films be noticed by young people?





Committee

Connie Hwang, SJSU Graphic Design Professor
Primary Advisor

Randall Sexton, SJSU Graphic Design Professor
Secondary Advisor

Alison McKee, Ph.D., SJSU Radio-TV-Film Professor
Tertiary Advisor




Abstract


Horror films have many different elements that provoke people to be scared. There are ghosts, extraterrestrials, vampires, werewolves, demons, Satanism, evil clowns, gore, torture, vicious animals, evil witches, monsters, giant monsters, zombies, cannibalism, psychopaths, natural, ecological or man-made disasters, and serial killers. There are countless numbers of different horror films in the United States. However not all of them are successful and popular to viewers. This Thesis explores the most successful and scariest film in history of horror film.






The Shining, Jaws, and Alien are the top horror films around the world. However, because those films were produced back in the 1980s, most of the younger generations who were born after 2000, are not aware of such great horror films.

Therefore, Purpose of this thesis is to let younger generations from around the world to know there are great horror films from the 1980s from the United States.

Main work of the thesis is the 3D sculpture that represents three different horror films, The Shining, Jaws, and Alien. They will be placed in front of the film museum.






Survey of a young designer
Eye Film museum, Amsterdam Netherland
Survey

Survey was conducted from 38 young graphic designers from San Jose State University. Most of them were their early 20s and not familiar with films, The Shining, Jaws, and Alien. Survey answers guided me to decide which medium I needed to pursue.
Survey Questions

1. What age group are you
2. What were the most scary films you ever watched
3. Why was it scary
4. If there is no sound, will it still be scary
5. Visual horror and silent fear, which is more scary
6. Why is visual or silent horror more scary
7. Spiritual and gore, which one is more scary
8. What color do you think is related to fear
9. Which shape is related to fear
10. What scares you the most



Location

Location for the 3D installments will be in front of Eye Film museum in Amsterdam, Netherlands.

Eye Film museum was reconstructed in 2012. It used to be Film museum founded back in 1952. And its predecessor was the Dutch Historical Film Archive, founded in 1946.


Eye Film museum is more than a museum, EYE film museum is a complex center dedicated to film and cinema along with being a permanent and temporary exhibition venue, it is also a research center, a film repository, a cinema complex, and a popular socializing and meeting space.






Moreover, Eye Film museum is also known for its abstract, futuristic shape. The museum was designed by Elke Delugan Meissl, Austria based Architecture, who also designed Porsche Museum, Stuttgart, Germany.


Meissl founded Delugan Meissl Associated Architects in 1993 and she had won the Austrian State Prize (Grand Austrian State Prize) in 2015.



In front of Eye Film museum
Audience

Main audience for the work is a foreigner who had not been exposed to American horror films, especially people who had not had a chance to watch because films were released back in the 1980s.


People who visit the Eye Film museum are mostly family groups. I visited Eye Film museum last year and I have seen a lot of families with their children. It may be because I visited during summer holiday. And second most common visitors were young couples which appeared to be in their early 20s. They are my target audience.



The Shining sculpture
Medium

In the first, the medium of this project was a pop-up book. However, after COVID-19 pandemic, I could not get access to the printer, so I had to change my direction. So the medium for this project is 3 dimensional structure using Fusion 360 software.


Outcome

I focused on three different horror films, The Shining, Jaws, and Alien. The abstract structure represents some of the key elements that are showing in the films. For the film The Shining, I combined a famous hexagonal hotel floor pattern and old wood with an unstable mentality. For the film Jaws, I combined the great white shark, the fishing boat, and the waves in the ocean. And for the film Alien, I used Xenomorph, spaceship, and shooting stars.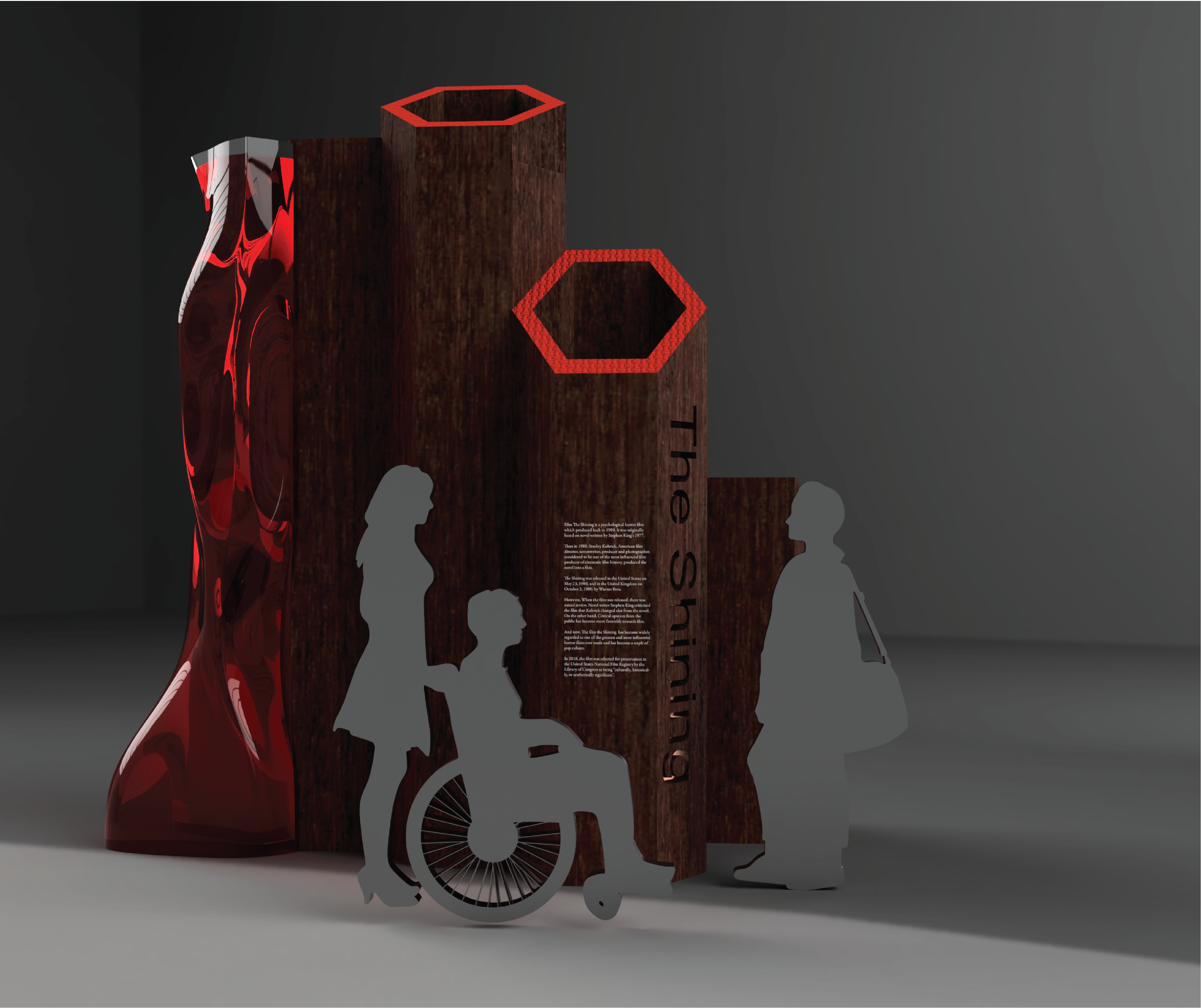 The Shining sculpture
Jaws Sculpture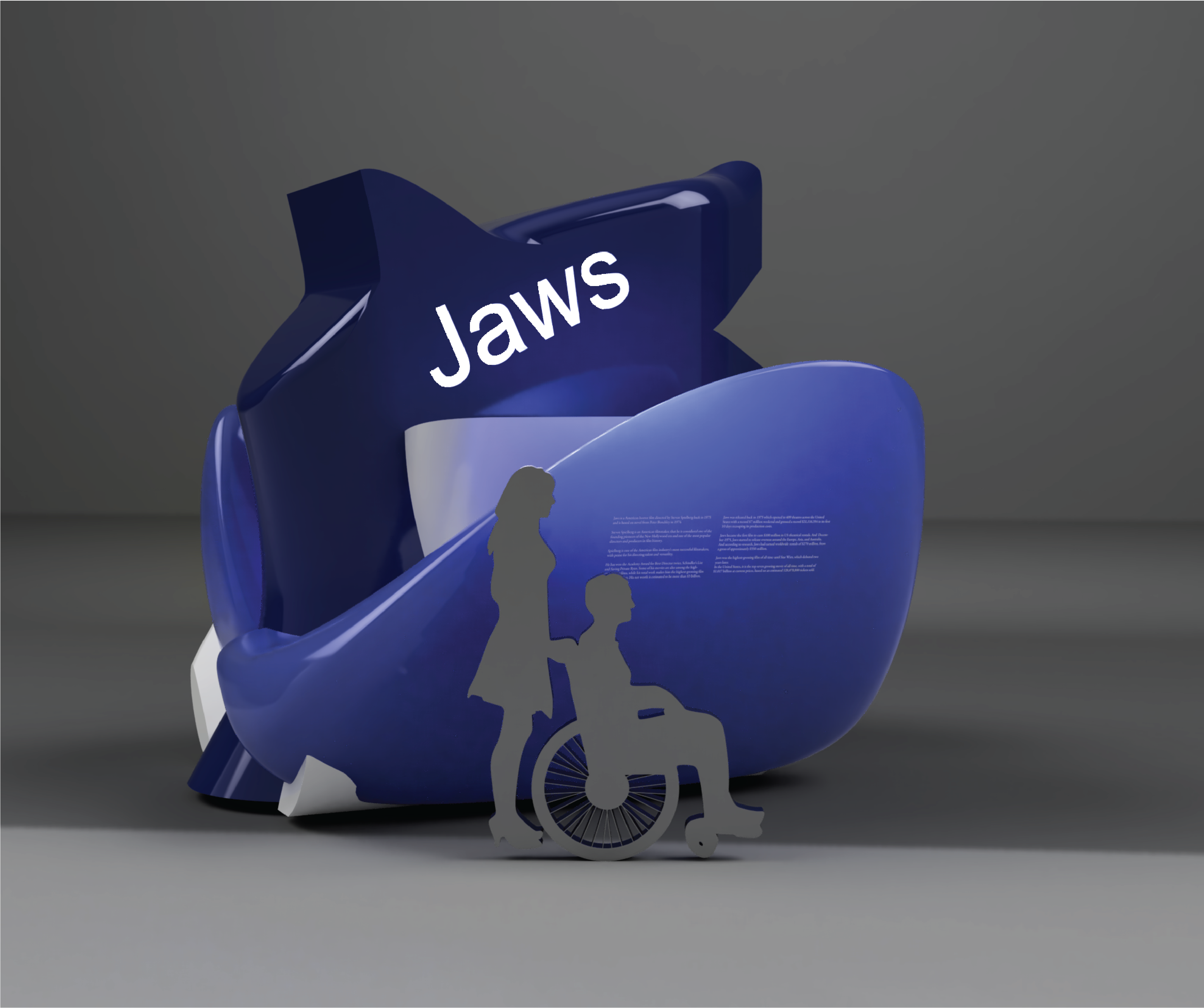 Jaws Sculpture
Alien Sculpture
Alien Sculpture
Conclusion


Through this project, I learned that many young people do not know about the greatest horror films ever made, The Shining, jaws, and Alien. My intention was to let those people be aware of such great horror films through abstract sculptures by placing them near film museums. From this project, I have learned very important things as a designer. Which is that when there is an obstacle in your direction, do not struggle wasting time, but shift your direction. I believe that time is the most important aspect that if I can not get it done, change the direction. My next step is to make more horror film sculptures so that one day, my work will be displayed in front of a real museum.