Research Questions

1. How does one's social identity differ from one's true identity?

2. How can characteristics of one's identity translate into visual form?

3. What are the consequences that social media imposes on identity?





Committee

Connie Hwang, SJSU Graphic Design Professor
Primary Advisor

Diane Lee, SJSU Graphic Design Assistant Professor
Secondary Advisor

Jonathan Fung, SJSU Photography Lecturer
Tertiary Advisor




Abstract


Within the past two decades, social media has experienced exponential growth that permeates society and influences ongoing relationships between photography and identity. Delving into social identities and their composition within the scope of my perspective provides exposure to a more multi-dimensional identity.

Individuals have a permeable and constantly evolving identity. By promoting self-reflection and analyzing the process to translate the characteristics they identify with, it creates a more intimate view of oneself and challenges self-perception.




Through a series of personal interviews about what identity consists of, I built a profile per person and compiled the information received. Displaying differences between social media and personal identities provokes recognition of online personas and how it affects people and the social culture around them. Utilizing meaningful portrait photography juxtaposed with social media gives light to photography's capabilities and impact on building identity.

Through advancing technology and increasing accessibility of photography coupled with the surge of social media, people have the capability to translate desired personal characteristics into creating and manipulating a social identity for themselves separate from their true identity.

Individuals

Each person I reached out to was selected based on their basic profile to balance some of the diversity and produce a wider range of results. Half of the pool of people I contacted made it through the interview and subsequent photoshoot afterwards.

Bridget Agyare
Andrew Andrade
Ali Burney
Allison Chen
Katherine Chen
John Creger
Bryan Devicente
Ralion Herzog
Sharon Hoang
Sebastian Honigs
Shreya Joshi
Diane Lee
Tyler Mozetti-Cox
Bryant Pelaez
Melissa Pelaez
Ju'Wan Seaberry
Randall Sexton
Mylles Sipat
Stephen Ti
Danielle Tulabing



Interviews
Determining the individuals to participate and refining the interview questions was one of the most crucial parts of the process. Because this project surrounds portraiture, the outcome is dictated by selected people and their answers.
Interview questions sent to
each participant to discuss
Question Prompts
I emailed the questions to every individual prior to the actual interview to allow time to digest and think about the answers without pressure of feeling rushed.
1. The first section is general information for a brief profile to create background at a surface level. It provides context and ensures respectfulness.







2. The second section delves into a variety of personal questions ranging in difficulty. Some are answers about character versus others that give clues for the photoshoot I would conduct after.







3. The bonus section was intended to lighten the tone after all the heavy questions and ended up producing some of the significant elements in the booklets.








4. Despite the hefty list of questions, I made sure to ask if I missed anything important at the end that might benefit my thought process for how to set up the portraits.








Outcome

The photography portfolio archival black proof box sets the tone of the project and teases just enough to create intrigue for what is inside. It was important to contain the booklets within a sturdy package to preserve the condition of the booklets and relate to photography as a fine art.
"Photography is about finding out what can happen inside the frame. When you put four edges around some facts, you change those facts."
—Gary Winogrand
Layout
Inside the cover is an intro panel overview of the thesis project and explains the elements within. The box is broken down into 5 layers of booklets organized within removable frames. Each layer of booklets fit together like a puzzle piece. Uncovering each individual builds a fuller picture of who they are juxtaposed with who I am. The bottom layer is my booklet to bring the perspective full circle.
Navigation reference makes it
easier to locate booklets and
return them to their section.
Covers

The cover of each booklet within is composed of 5 colors defined by the key. The size of each shape corresponds to how much of the color's meaning is found within the person as I know them. Every individual also has their own color(s) that associates with their personality.






All layers can be lifted at once from the box by using the two handles for better access and easier viewing.
Content

The booklets begin with the individual's social identity through a social media post and its accuracy to their true self. It is accompanied by a color palette of their personality.

A moodboard then unfolds utilizing graphics from their spirit animal to delve deeper. A brief profile and bio explain more about the person.

At the end of the booklets lie the portraits I took to capture a broader picture of the person as I know them. Descriptive words supplement the picture for characteristics that add more dimensionality. I included the date that the portrait was taken to signify the individual's personality as a moment frozen in time.




Spreads from different
booklets to show how
each is individualized
Booklets

Every booklet is completely customized for the individual within and how their personality translates into visuals. All details from sizing and space to typography choices embody characteristics of the person as I know them.
Check out the digital gallery:
mirandachang.com/insidetheframe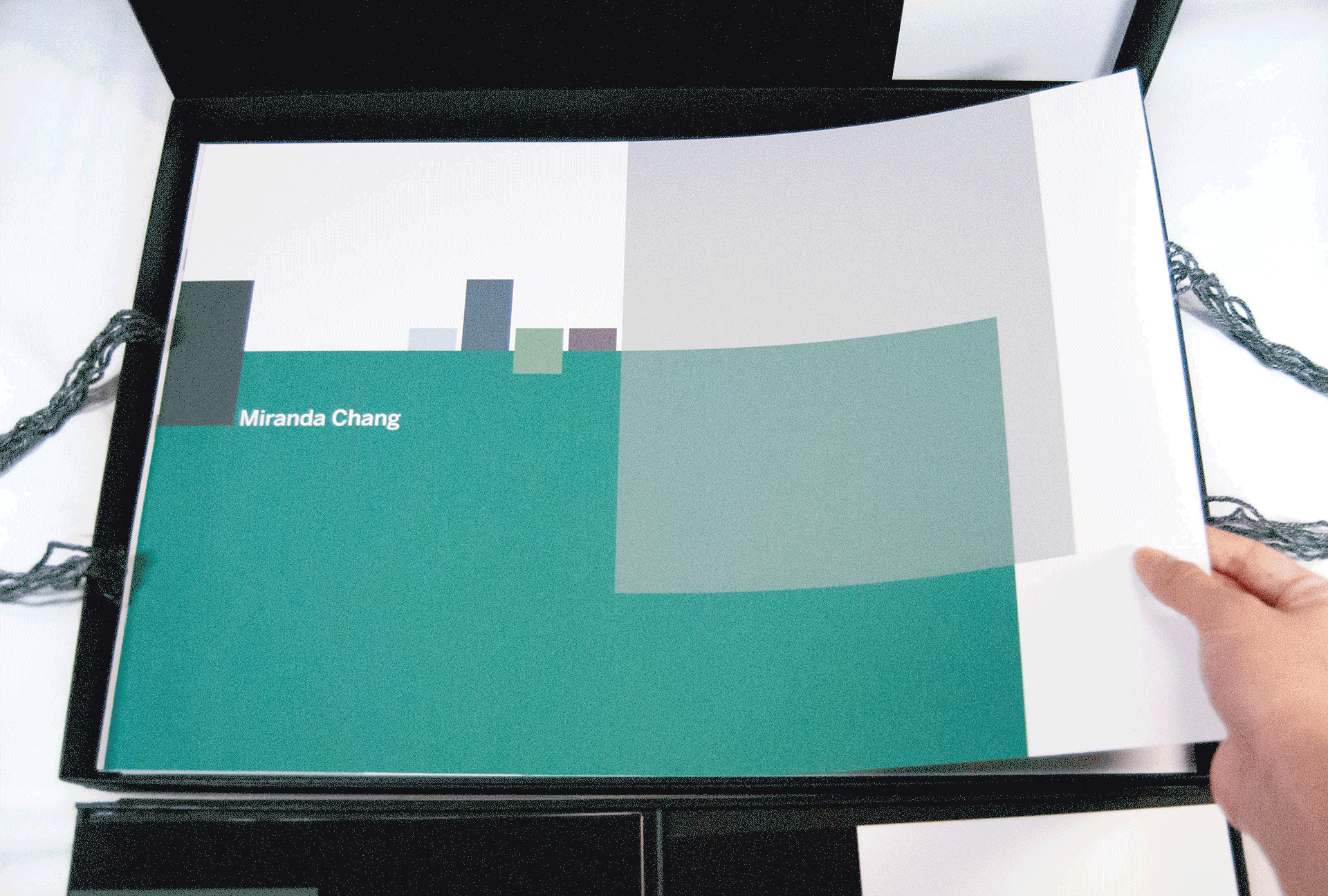 A little message can be found
at the bottom of the box once
all layers are removed.
Conclusion


Photography plays such a big role within the concept of social identity. With social media's exponential growth coupled with advancing technology can distort perception. Thus, it is important to self-reflect about personal usage and how we influence the social culture. Be aware of how technology impacts us while still appreciating what it can do for us.


This thesis is intended to simultaneously get a deeper insight into select individuals within my life while exploring ways to translate what I know about them into a visual form. The outcome is a lighthearted exploration about social versus true identity through the lens of my perspective that brings awareness to photography's impact within society and to recognize the media as a fine art.


Ultimately, I wanted this thesis to bring more recognition for meaningful photography in light of how readily accessible the technology is. The technology is already here, we just have to be more conscious and maybe experiment some more while we're at it!